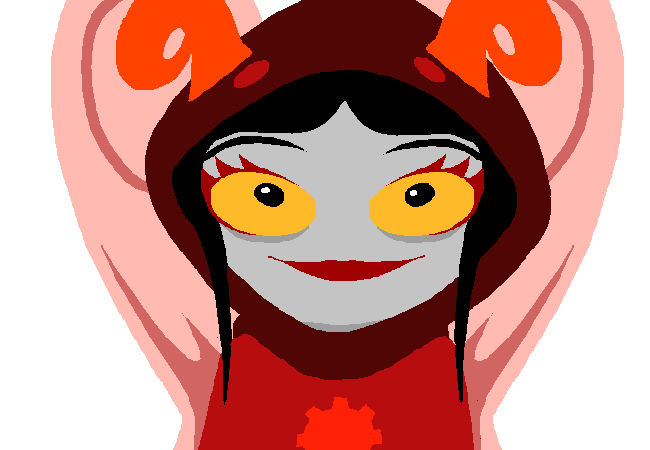 This was a tough one since, as usual, I was torn between Aradia and Vriska.  However, Aradia always manages to win out, even if only by a little.
Now don't get me wrong, Vriska is in my opinion the greatest accomplishment of Homestuck, writing-wise.  I could write an entire academic fucking dissertation on just how successful Hussie is at creating a compelling and complex character, and how she manages to accomplish everything Hussie intended for her to do, especially in terms of shattering the fanbase.
But as a character overall, Aradia wins.
I think the biggest reason for this is her development and overall likability.  Vriska is more sympathetic, but Aradia is just a hell of a lot more lovable.  Similar to Dave, post-death Aradia still has very definite reactions to things despite being merely "0kay" with everything, reactions that get downright snarky, which, of course, I just fucking love.  Her pre-death self is just downright adorable, what with the love for adventure and all, and it makes it all the more heartbreaking when you realize that the only thing removing her from that state was, well, dying.  Once she got the tiger, though, she really skyrocketed for me.  I mean come on.  First you have the above picture which is just such great catharsis after seeing her as a bored, empty ghost for so long and seeing her soulbot explode.  I mean that one panel and the accompanying dialogue from her were both just beautifully done.  And then she goes ahead and MAKES A BLIND JOKE DIRECTLY AT SOLLUX.
ARADIA.
YOU KNOW THE PATH TO MY HEART.
IT IS BEING SNARKY AS HELL LIKE YOU HAVE JUST DONE.
But despite the snark and character development, I can admire the fact that her most prominent and consistent quality is her desire to help others.  I mean she is spending what could be her entire God-Tiered existence guiding people through the dream bubbles, she got revenge for her dead friends, held back Jack Noir with her powers, she supported Tavros both as part of Team Charge and as a friend, sacrificed countless copies of herself not only to beat the Black King but to buy her teammates time to escape from Jack Noir, tried to warn her friends that the game would have some serious consequences… the list goes on and on.  Whether she is dead, alive, or God Tiered, she's arguably one of the most loyal and consistently helpful characters, despite getting snarky.  That's just extremely admirable and something I can look up to a lot.
Also fucking Corpse Party was the greatest thing in existence.